Making an Offering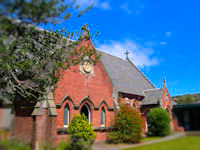 Restrictions to Services while COVID-19 alert level 2 is in place may mean it is impractical to make an offering in the traditional way. Parish costs continue to mount up though so it is important to continue making a regular offering.
Here are three ways you can do that:
Use a direct credit for regular contributions. The parish bank account details are ANZ Bank number 06-0911-0008804-00. Make sure the details and reference identify you so we can issue a tax receipt at the end of the year. If you would like assistance or further information please contact Di Bunker on telephone 477-2474 or by email
Send or deliver a cash or cheque contribution to the Vicarage at 57 Baker Street, Caversham, Dunedin 9012
Make contributions on our Givealittle page. Givealittle will supply a tax receipt for the end of the tax year.
This is not quite so effective a way to contribute as Givealittle retains a percentage to cover costs.
57 Baker Street, Caversham, Dunedin, New Zealand +64-3-455-3961 : or e-mail us